In recognition of the rumored soft opening of Fogo de Chao tonight, here are some photos of the building that houses Indianapolis' newest restaurant, the Broadbent Building.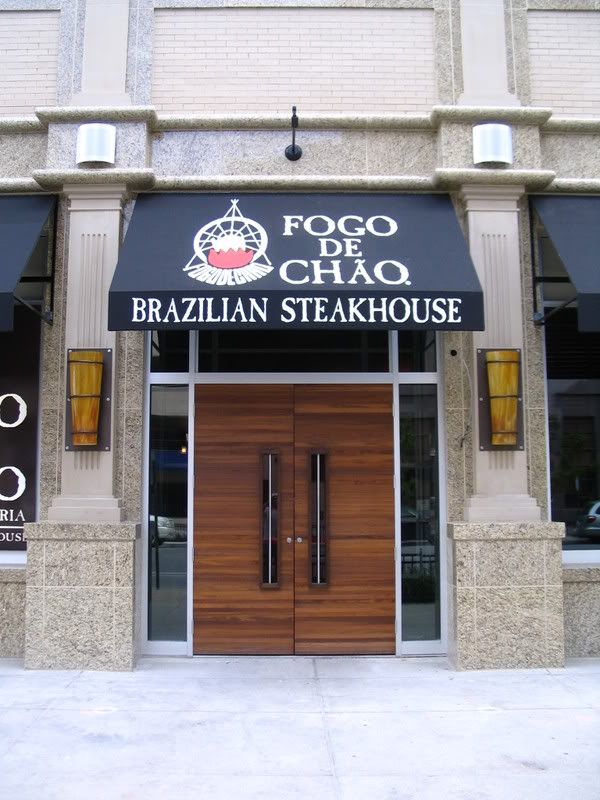 I know architecture buffs are up-in-arms over the design of the Broadbent Building, but when I stand in front of the building, I rather like it. In fact, the street-level presence is really quite good. At the very least, I'm not aghast by this building, as I was when I stood in front of the previous design, commonly called the "Zipper Building." It may have been unique and I know some people admired it for that fact, but the street-level feel was incredibly uninviting. My memory is foggy, but I'm not even sure it had street-level windows. Here's a picture of the building borrowed from (you guessed it) costar.com:
Is the Broadbent Building a home run? No. But it's definitely a welcome improvement. In particular, I'm in love with the stained-glass window that Fogo de Chao has installed at the point of the first floor. I haven't seen it with full back-lighting yet, but I can only imagine it's going to look amazing at night. The black awnings are a positive addition as well.
In closing, here's a shot of the on-going renovation of the Allen Plaza -- formerly Jefferson Plaza, directly across Virginia from the Broadbent Building -- rumored to be the future home of a Scotty's Brewhouse: