Today's beer review takes the form of a head-to-head. In this case, I'm pitting two beers from
Bell's Brewery
against each other --
Batch 8000
and
Winter White Ale
. These are both classified as
Witbier
according to Beer Advocate, though there is some debate regarding Batch 8000's classification (I won't go into this, but you can see this in the Batch 8000 comments, especially the earliest ones).
Batch 8000 is the latest in a line of special, one-time-only beers Bell's brews for each 1000th batch. The previous one, Batch 7000, was brewed a little over 2 years ago and was an especially popular American Double/Imperial Stout. I'm a bit late to the craft brew game to have tried that, unfortunately (anybody got one that wants to trade for a Batch 8000?).
I begin by pouring each into a large red wine glass (the closest I've got to a proper Belgian beer glass, and it does a fine job). The differences between the beers are apparent early, as the Batch 8000 is a decidedly deeper in color, almost amber. Winter White Ale is closer to the typical color of a Witbier. Each pours about a finger of head (click on any of the following pictures for a larger version):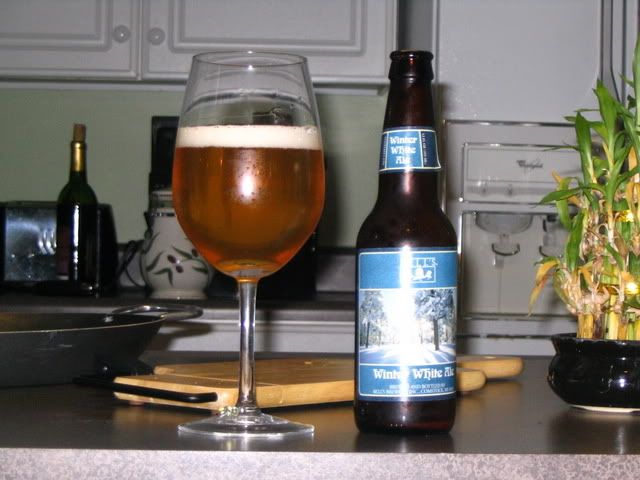 The head dissipates quickly on both beers (this is 30-60 seconds after pouring):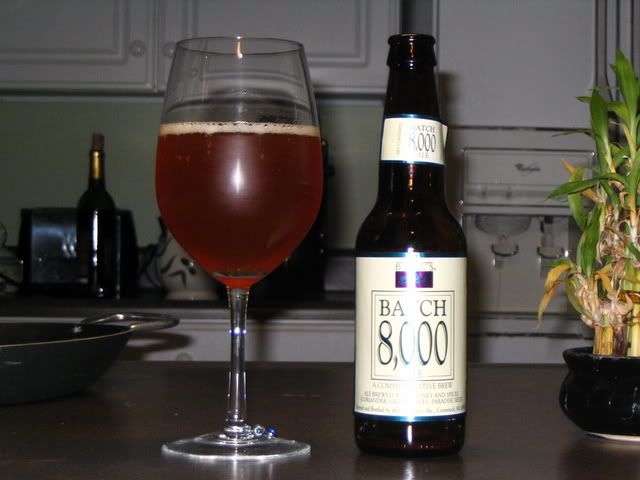 Neither beer leaves any lacing on the glass:
As for the taste, the Batch 8000 is bolder in every regard (just my kind of beer): more spiced, with strong corriander, slightly sweeter and more pronounced alcohol. This last point is not surprising given that Batch 8000 has 9.0% abv compared with 4.5% for the Winter White Ale. I've enjoyed Winter White Ale in the past -- as my wife says, "It tastes like Christmas" -- but next to Batch 8000, it's a joke. The taste is thin. I think I'll still be able to enjoy Winter White Ale in the future -- especially since it's much more drinkable -- but I'll really have to avoid having it next to anything more powerful!
If you can still find Batch 8000 anywhere, I highly recommend trying it out.