Three Mass Ave
: the pit continues to grow. At this point, I think they're still just removing dirt and shoring up the pit walls. Very soon, we may see some concrete for the underground parking garage.
Cultural Trail
: the Alabama St. paving is largely done, just some work left at the intersections. Signs indicating bike and pedestrian sides of the trail (and other information/directions) have been attached to the lights. If the weather clears up this week I may try to grab some pictures.
O'Malia's
: the renovation work appears to be in the final stretch. The "wine room" where the cooking school used to be is really shaping up nicely. The temporary shelves have finally been removed, opening up the huge windows in that room (though I like the additional light, is this good for the wine?). An interesting paint job, very different than the rest of the store, has been added to the walls -- you'll just have to check it out. One thing that really pleases me about this renovation is that it hasn't been completely converted into a generic Marsh. There are elements of the "stock Marsh" but you can still tell it's O'Malia's.
Paramount Tower
: if you missed the update below, the big news from Cory Schouten is that the
Paramount Tower
proposal is being moved from its original location on Illinois to the NE corner of Michigan and Capitol, directly across from the Gibson Building. The height has also increased from 11 to 16 stories and an on-site parking lot has been added to the proposal. This figure is included with the IBJ article: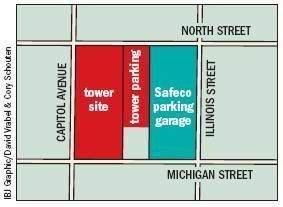 The gap along Michigan St. is an old 3-4 story building that I believe is currently occupied. A 1-to-2 story building on the North St. side appears destined for demolition.
Legends District - SODO
: a
huge $480M project
has been announced for 11 acres of downtown bounded by South St., Madison Ave., the CSX Railroad Line and Merrill St. This is very preliminary and many, many things need to fall in line for this to become a reality. Still, it represents one of the most exciting announcements for downtown in quite a while. The addition of urban-style big-box stores like Target, Best Buy and Dicks would be huge for downtown residential development. The absence of these kind of retail optons is one of the major gaps in downtown living that keep some people away. Here is a rendering, with Madison Ave. in the foreground and South St. at the far left: