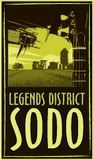 The rendering of Legends District that's been released (see "
This 'n That
" below) leaves something to be desired in terms of detail, not to mention that it only shows about one-third of the proposal. On Friday, WTHR and WISHTV posted videos of their news pieces that include some fly-through video and more renderings. They don't help much with detail, but they do provide a much better idea of the lay-out of the project. I captured some of the images from the video so we can take a look at it (sorry about the quality and size -- a
slightly
larger version is available if you click on these images):
Site Overview: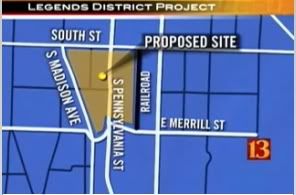 Looking North: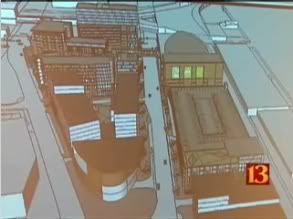 Looking Northeast: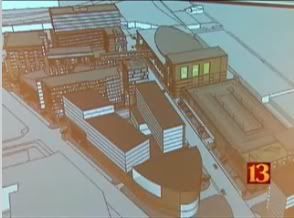 Looking West (Henry St. runs down the middle):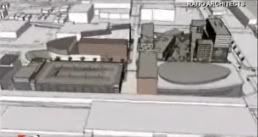 Looking Southwest:

Parking Garage between the CSX Line and Pennsylvania:

Looking Southeast:

Looking Southeast at the corner of South and Madison: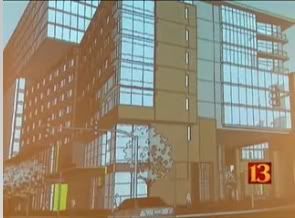 Ground level in the public plaza: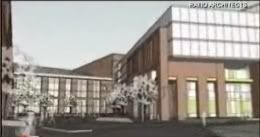 Quick observations:
The developers respected the street grid, not only maintaining Henry St. between Madison and Pennsylvania, but extending it to the CSX line. The Scioto St. alley between Arby's and Subway would be vacated, though I don't think that's much of a loss.
It's clearly designed with street-level atomsphere and walkability very much in mind.
Decent density on the northern section of the project. It appears to be generally around 5-10 stories, with the one large structure at South & Pennsylvania perhaps as tall as 15 stories.
Hopefully we'll get some more detailed renderings in the future.
(note: the Legends District logo is a trademark of the Legends Entertainment Group, LLC.)