Flaherty & Collins' mixed-use development, Cosmopolitan on the Canal, was announced almost exactly one year ago. The project, located at the corner of Michigan and Senate with canal-front access, is to include 218 apartments, 18,000 square feet of retail, and a 338-space parking garage with a number of spaces designated for public use.

UPDATE: Looking at the "Key Plan" for each floor, the total number of units is just 206. Interesting that it went down, considering that they added a floor of residential in the "main" building at Michigan and Senate. More UPDATE: I found a sheet noting that there still 218 units, so I went back and recounted the number of units. I missed 8 two-story units (therefore, double counted them), so the count is actually 198. Either there's a discrepancy in their schematics or I've miscounted. I could be wrong, but it doesn't seem likely that I'd be off by 20.

A groundbreaking had been expected by the end of November. We still haven't seen any dirt move at the project site, but I've rounded up some new renderings that will hopefully tide us over for now. They're dated December 7th, 2007, which at least shows that the project is still moving forward (they've also registered two different domain names). The architect is The Housing Studio of Charlotte, NC. Flaherty & Collins most ambitious project, 210 Trade, is currently being built in Charlotte, though The Housing Studio did not design that building.

First, let's take a look at the renderings. Some of my usual thin commentary will follow. Here is the original sketch of the Michigan/Senate corner from a year ago: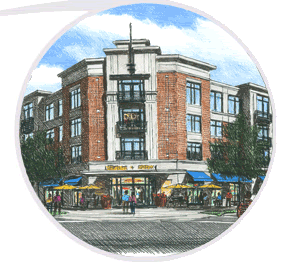 And here are the latest renderings (click on any of these for a larger version):


Corner Elevation, Senate side

Senate Elevation
Senate Garage Elevation (north/right of previous elevation)
Michigan Elevation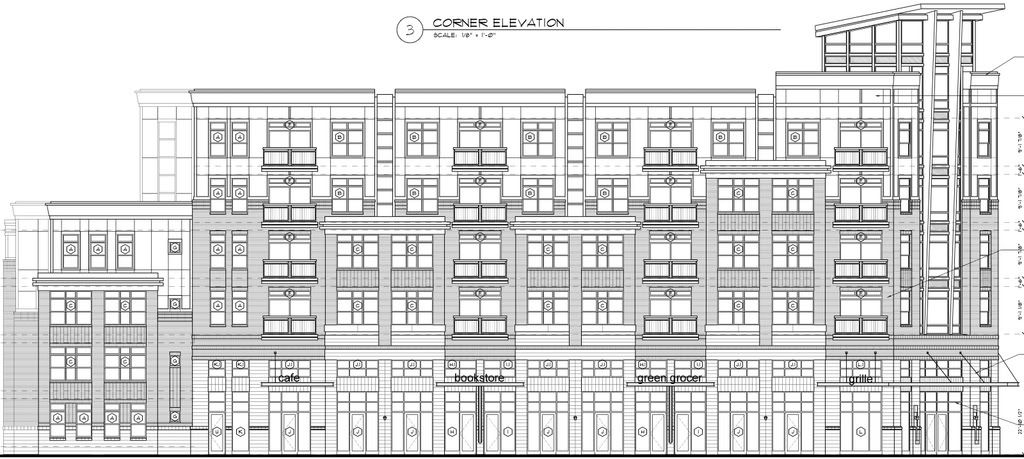 Michigan/Senate Corner Elevation
Canal Elevation

Siteplan
Courtyard Siteplan
Michigan/Senate Retail Siteplan
Some observations, starting with the positive:
1. The height has apparently increased from four to six stories in the main building with a seven-story peak at the intersection of Michigan and Senate. The rest of the project appears to be four stories, with one story sunk at canal-level (i.e. the canal-front sections are one story below grade and three above).
2. The detailing looks great and is a significant improvement over the original design that was decent, if a bit clunky. I can't wait to see it in color.
Negative:
1. The parking garage entrance is located on Senate. I assume this was done to make it more visible as a public parking garage for the canal, but it's disappointing that they couldn't negotiate access from North St., leaving the Senate frontage for more retail. Looking at the schematics, it doesn't appear that they own any land directly abutting North St.
2. The canal-level retail is extremely small. There appears to be one retail unit, a canal-front space immediately north of the Indiana Historical Society. The canal-level frontage north of the courtyard cutout is exclusively residential. This was likely done to create a buffer with the Watermark condos immediately north of this project, but it's disappointing nonetheless.
UPDATE: In looking more closely at the canal-front retail, there is a dashed line cutting through that space, presumably indicating that it could be divided into two spaces. The available space is still pathetically small.
What do you guys think of the new design? I'm particularly curious what the architecture professionals/buffs out there think of the detailing.